The tools used to create and manage the pages of your web site will boil down to who will be managing them. Web pages built for your work flow will increase productivity and motivate you to build your brand. Webie Design offers several solutions, one is bound to suit your needs.
An easy way to maintain existing pages and add new content is to use the JoomUnited editor and content plugins. This system has a basic interface that offers easy to use tools for the management of text, files, and images. No coding knowledge is required. The editor loads building blocks where the content is laid out in a grid that converts easily to various resolutions and screen sizes. The image manager, DropPics, lets you manage single images and galleries with easy. Files like pdfs and Microsoft documents can be added to your pages easily as well. The style of the content is delivered through the web site template for consistency and to minimize added code. This solution is perfect for a client who wants the easiest way to manage their site.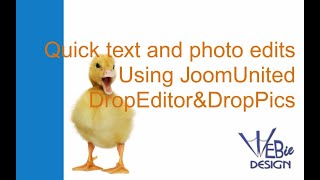 Pagebuilder CK is the tool I prefer to manage Joomla pages and content.This pagebuilder has options for additional styles and modern animation features all while providing an easy interface. the CK system includes a custom templating system and a multitude of other extensions that all work together and have a similar user interface that allows for a more productive workflow.
I recently gave this extension a test drive. I will be managing a couple of existing websites that use Nicepage and I will maintain it as is. I was pleasantly surprised. I had used a similar product years ago and the found it to be very resource heavy. I was genuinely surprised to get an "A" score from GT Metrix. This system has a drag and drop user interface and includes some great point and click resources to select from.